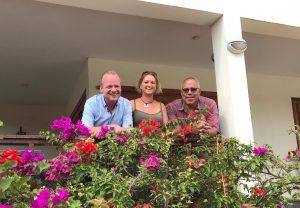 Let us introduce you to the Gosa Bunita team, from left to right:
Arthur – Founding father and owner of the Gosa Bunita paradise.
After many nice visits to Curacao, Arthur was convinced to build his own apartment complex.
Mary Jane – Hospitality & Communication services
If you make your reservation or have any questions about Gosa Bunita, MJ is dedicated to help you! 
Sherman – Caretaker
To maintain Gosa Bunita as the idyllic place we envision, Sherman is the expert to accomplish that.  In his capable hands we know that Gosa Bunita gets all the attention it needs and therefore it will be the place where you can enjoy and relax of your well deserved vacation.
With Apartemento Gosa Bunita our dream came true.
We hope you will enjoy the apartment as the island as we did back then.

We like to welcome you on our fine resort!